Simaero, Thales, and China Sky-Wings togetherto train civilian pilots on H225
With the first H225 level D Full Flight Simulator Reality H® based in China, Thales and Simaero will contribute to improving the overall safety of helicopter flights for China Sky-Wings H225 pilots.

Reality H ® simulator is Thales's flagship helicopter simulator in operation around the world and certified at the highest level by the international authorities.

Simaero strengthens its collaboration with Thales and extends its engineering activities in China, by running this new challenging Full-Flight Simulator relocation project.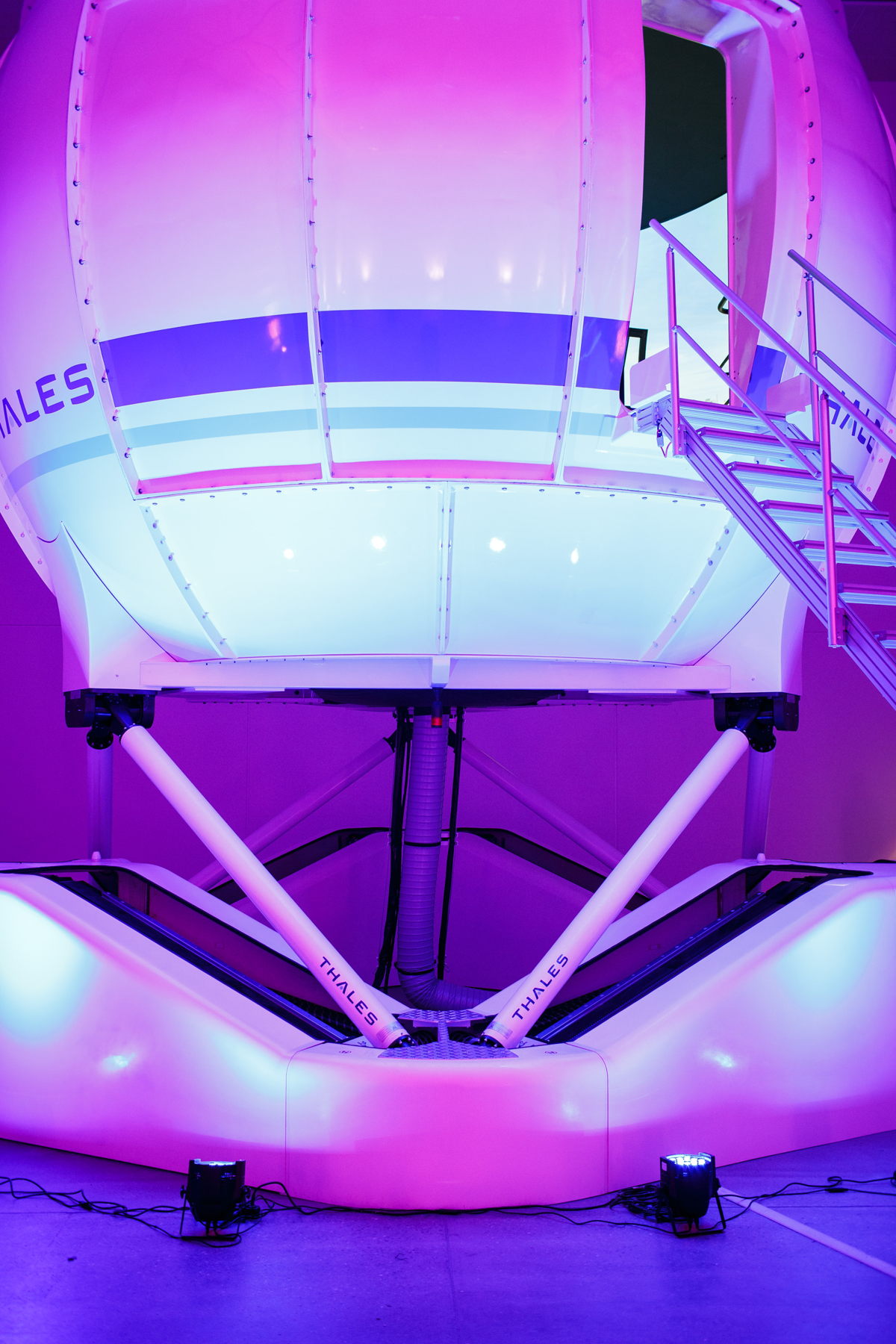 Thales and Simaero have signed a contract to relocate one H225 Reality H ® Level D full-flight simulator. The Thales Reality H ®, which is one of the world's most advanced commercial helicopter simulators, will be relocated by the Simaero Engineering team to China Sky-Wings training center in Shanghai.
As well as improving security and safety, training and simulation boost fleet availability, with reduced costs and lower carbon emissions. With this new H225 Reality H, Chinese helicopter pilots will benefit locally from the highest level of training with the most demanding mission scenarios in a wide range of weather conditions, and a very immersive virtual environment.
Thales designed Reality H® to meet the needs of helicopter operators, maximizing training capacity and availability while offering straightforward ease of installation, operation and maintenance. Certified at the highest level (level D) by international authorities, the Reality H has been operational for more than seven years on all five continents. ​ This Thales Reality H ® simulator will be the second operated in China along with the EC135T2 helicopter FFS level D in Haite. ​
Simaero has been operating in China since 2021 on multiple engineering projects for Chinese customers, amongst which the aviation academy China Sky-Wings who has already trusted Simaero for a full-flight simulator relocation project in 2022. It was a natural step to entrust Simaero to manage the entire relocation of the Thales H225 Reality H ® Level D full-flight simulator from disassembly, transportation, and reassembly, to power-up and support for the device certification by the Civil Aviation Administration of China (CAAC).
"Thales is delighted to partner with Simaero and to benefit from its well-established presence in China. We are convinced that together we will be provide the best-in-class training operations to address the promising market of civil pilot training in China." Peter Hitchcock, VP Training & Simulation, Thales
"Combining the first-class quality of Thales' device with Simaero's experience in complex engineering services in the simulation industry brings an optimal solution to China Sky-Wings' need for helicopter pilot training. We are proud to strengthen our trusting relationship with Thales and help them extend their simulation solutions to the Chinese market." Julien Champs, General Manager Simaero Engineering, Simaero
About Simaero
Simaero is a leading actor in Full Flight Simulators operations and Pilot Training worldwide. Headquartered in Paris (France), Simaero gives its 220+ worldwide customers access to over 30 Full Flight Simulators in its four Training Centers, located in Paris CDG and Dinard (France), Johannesburg (South Africa) and Zhengzhou (China).
Simaero is an Approved Training Organization for pilots, certified by EASA and over 40 other civil aviation authorities, including South Africa, Saudi Arabia, India, Malaysia, Nepal, Brazil, Senegal, Ivory Coast, and UAE. Its academy offers a complete set of Type Rating training solutions covering a comprehensive range of aircraft types, including Airbus A320, A330, A340, and A350; Boeing 737, B757, B767, B777, B787; ATR 42/72-500/600, ERJ 145, Beech 1900, Dash 8, MD80/82, and Fokker 100.
Simaero also provides Simulator Engineering Services to numerous customers across the world. The service includes simulator relocation, repair, and upgrade, as well as preparation for certification and operation. In Joint Venture with HNCA, Simaero provides simulator engineering and maintenance services in China.
About China Sky-wings
China Sky-wings International Education Technology Co., Ltd. (hereinafter referred to as China Sky-wings) is jointly invested and established by China Express Holdings (Shenzhen) Co., Ltd. and Quzhou China Sky-wings Holding Partnership (Limited Partnership). Its headquarter is located in Quzhou City, Zhejiang Province which covers 27 acres and a total investment of 1.38 billion of RMB.
China Sky-wings has set up branch companies and subsidiary companies in Chongqing, Zhengzhou, Shanghai, Shaoyang, Sheyang, Ordos and other cities. It mainly carry out aviation quality education, aviation education with record of formal schooling, aviation career education, aviation entertainment and other businesses. The company has introduced flight simulators of MI-171, KA350, H225, B747, B737, A320, CRJ900, aircrafts of DA40NG, DA42NG for pilot training, and the only ARJ21 cabin simulator in the world for flight attendant training. It provides efficient and professional flight training for clients according to the CCAR-14, CCAR-141, CCAR-91 regulations of the Civil Aviation Administration of China. In the future, China Sky-wings will build an aviation education platform, which is suitable for all ages and throughout the whole industry chain, so as to lay a talent foundation for civil aviation power.
Chrystelle Dugimont Media Relations and Social Networks Manager, Transport / Civil & Defense Aeronautics, Thales
Marion Baudru Simaero Marketing & Communications Manager, Simaero
Devo Chen Marketing Manager, China Sky-Wings