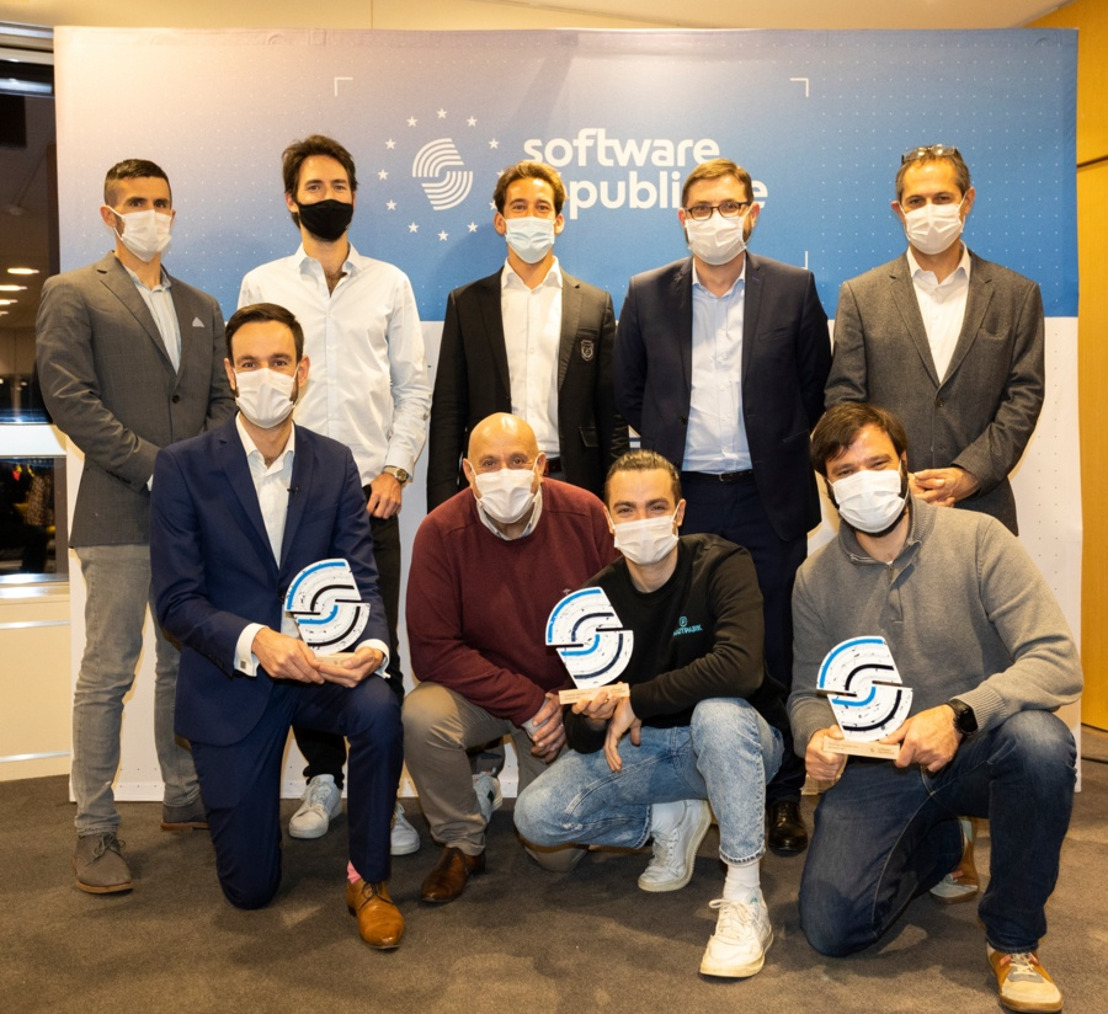 Wattpark, Geoflex and Vianova win Software République's"Mobility 4.0 Challenge"
Atos, Dassault Systèmes, Orange, Renault Group, STMicroelectronics and Thales, members of the Software République, finalized their first open innovation challenge on December 16th

Out of 150 applications and 10 finalists, the 3 winning start-ups of the competition are: Wattpark, Geoflex and Vianova

The 3 winners are invited to join the Software République incubator to accelerate their innovative projects
The three start-ups Wattpark, Geoflex and Vianova won the first edition of the "Mobility 4.0 Challenge" organised by the Software République, a new European ecosystem for innovation in intelligent mobility. The winners received their trophies by the members of the Jury of the six founding companies with the participation of  Cédric O, French Minister of State for Digital.
On September 6th, the members of the Software République launched the "Mobility 4.0 Challenge", motivated by a common goal: to mobilise the start-up ecosystem around innovation for sustainable mobility.
After receiving more than 150 projects, 10 finalists were short listed by the Software République Jury. By giving them access to the necessary data for their projects and benefiting from the expertise of the six founding companies, the 10 finalists were able to develop their innovative concepts during a prototyping phase which finished early December.
After deliberation by the Jury, three winning start-ups were rewarded. Wattpark, Geoflex and Vianova have been invited to join the Software République incubator from February 1st, 2022 to bring their project to fruition with the support, expertise and resources of Atos, Dassault Systèmes, Orange, Renault Group, STMicroelectronics and Thales.
The three winning start-ups of the 2021 edition of the "Mobility4.0Challenge"are:
Wattpark is the « Airbnb© of chargers ». It allows owners of charging stations to share and rent it out. It helps drivers locate a charging station, connect to it, and easily pay there by making the experience of driving an electric or plug-in hybrid vehicle stress-free.
Geoflex is a service operator enhancing GPS/GNSS applications to achieve secure and accurate positioning, down to 4 centimeters, on land, at sea and in the air. Geoflex provides universal hyper-geolocation to trains, cars, ships, drones and smartphones, and also for last mile delivery in smart cities.
Vianova proposes to build a road safety algorithm that could benefit both cities and motorists toidentify and be informed in real time of dangerous incidents on the roads or high accident risks incertainareas.
The members of the Jury also nominated three special mentions: Parcoor, Pasqal and Search Mobility.
The jury is composed of representatives from the six members of the  Software République:
Sophie Proust, EVP Group Chief Technology Officer, AtosGroup

Laurence Montanari, VP Transportation & Mobility Industry, Dassault Systèmes

Frédéric Vacher, Head of Innovation 3D EXPERIENCE Lab, Dassault Systèmes

Jean-Marc Lafond, IoT portfolio Director, Orange Innovation

Luc Julia, Chief Scientific Director, Renault Group

Sophie Schmidtlin, VP Research & Advanced Engineering

Frédérique Le Grevès, Executive Vice President, France Public Affairs, STMicroelectronics & President and CEO, STMicroelectronics France

Stéphane Royer, Group Chief Data Officer, Thales
For further information about the Mobility 4.0 Challenge: https://www.challenge-software-republique.com/and related videos on Software République's YouTube channel.
Vanessa Viala Media relations and Social Media, Digital Identity and Security, Thales Group
PressContacts
Atos: Laura Fau-laura.fau@atos.net–Tel.+33673640418
Dassault Systèmes: Arnaud Malherbe-arnaud.malherbe@3ds.com–Tel.+33687562461
Orange: Tom Wright-tom.wright@orange.com–Tel.+3367891 3511
Renault Group: Amélie LeGall- amelie.le-gall@renault.com–Tel.+33601921226
STMicroelectronics: Ronan Mulvaney– ronan.mulvaney@st.com–Tel.+33764505837